How to hide the chat on specific pages
Included for free in plans
VIP
PRO
You can hide Jivochat on a specific page using the triggers settings.
Please open our web application.
Then click 'Settings' under your website's name.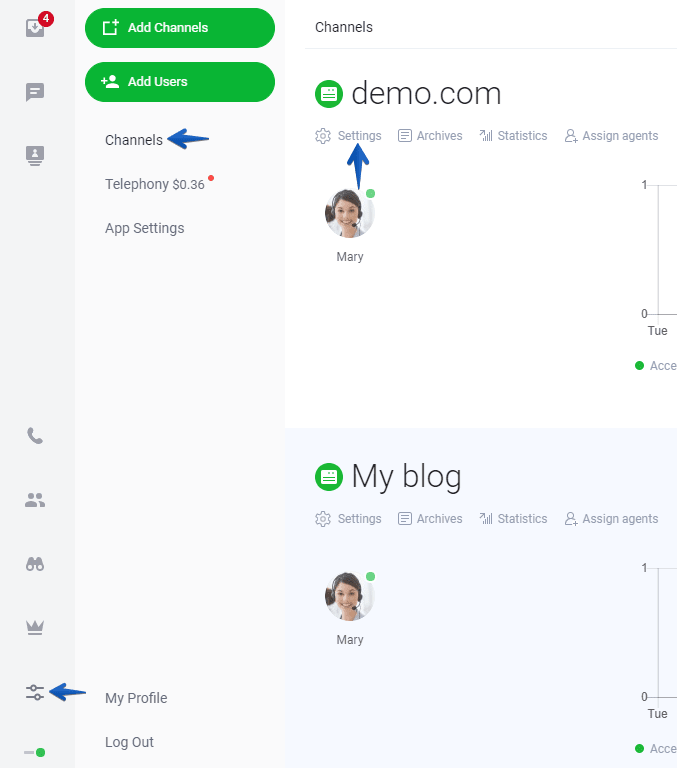 Follow to the 'Triggers' and click on the button "Add action".
Please add the following action: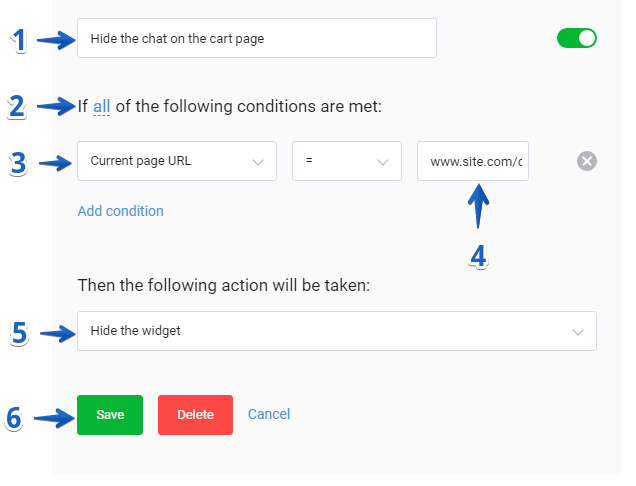 Note that when you add a new action, all default conditions will be shown, please close some of them until you see the ones required for this action as shown on the screenshot
1.Choose a name for the trigger in this field.
2.Choose 'ALL' of the following conditions. This is not an obligatory condition for this action, so you can change it to "ANY" for multiple pages.
3.Add the condition "Current page URL".
4.Choose "=" and paste the full URL from the browser. If you have more than 1 page where you want to hide the widget, change the section 2 to "ANY" and add one condition per page.
You can also hide the chat on entire sections of a website by using the "contain" option and adding a specific word that a whole section has in common on their URLs. For example, if a whole section uses a URL similar to www.website.com/sales, you could hide the chat on the entire sales section by adding a condition using "Current page URL" -> "contain" -> "sales".
5.Choose the action "Hide the widget" from the list.
6.Click "Save".
Do not forget to check if your action is on.

Everything is ready! The chat is now hidden for the page.
Ask in the live chat, we are ready to help around the clock