Included for free in plans
VIP
PRO
Integrate Plantt with JivoChat and let a bot deal with new-coming chats. The bot will handle new dialogues and drop them in Inbox if it runs out of answers so that your agents can carry on.
The bot's chat history can be found in "Contact Center" > "All" in the JivoChat app.
To connect the integration, you will need to insert your bot token from Plantt in the JivoChat app.
To generate your token, create an account on Plantt and go through their onboarding process to gain access to your Plantt panel and to learn how to set up the bot.
After you gain access to your Plantt panel, click the upper right corner on top of your account name and go to "Settings"
Then, go to "Integrations" -> Click the "Connect a new integration" field -> Find and click on "JivoChat".
You'll be redirected to a page with an empty "Token" field. While in there, create a token for your integration. You're free to create any token you desire, but make sure it's complex so that no one will accidentally use the same token as yours. We recommend at least 12 characters. After creating the token, copy it and press "Continue".
With the token in hands, go to the JivoChat app > "Manage" > "Integrations" > select "Plantt".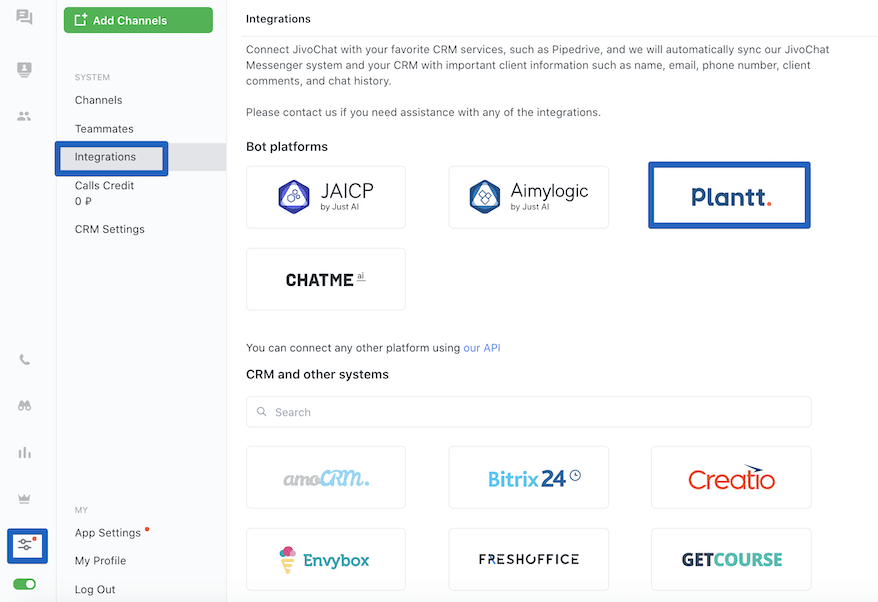 Enter a name and title for your bot, upload a picture, insert your bot "token", and select which channels you want to apply the bot for. When all is set, press "Save".
The integration is completed, you'll see the bot under "Connected integrations". You may always change its settings, just hover the mouse over the integration and go to "Options".

Done! You may now test your bot to make sure it works as desired.
Ask in the live chat, we are ready to help around the clock